First Visit
Dr Harper offers appointments in person at his Randwick Prince of Wales Private Hospital rooms or via Telehealth (see below).
Prior to the first visit please complete a new patient form (top of home page).
Please note that the Randwick area can be very busy with hospital, university and high school traffic converging on the precinct. Please allow extra time to make your appointment. Late arrivals will be rescheduled.
You will need to provide for the first appointment
Referral letter from a doctor (GP, Specialist) to obtain Medicare rebate.
Medicare card, DVA card, Pension Card
Your Private Health Insurance details if applicable
X-rays, MRI's, CT scans etc and reports. Not all radiology companies provide hard copies of investigations. Please check with rooms on 96504834 to see if we can access your images online.
If you would prefer a telehealth consultation, my practice is now using a video platform called Coviu. It is browser based, so you don't need to install a special application, just a Google Chrome, Firefox or Safari12+ Web browser on a computer, phone or tablet with camera. We will meet at a Web link. Google chrome is the preferred browser as it allows me to share medical images and website explanations.
The Web link is sent to you via an invitation email. If this is not in your inbox please check the Junk mail folder.
Just click on this link and Coviu will open in a Web browser. You can then identify yourself and wait in a waiting room for me to join you.
You will be taken to a page that say's wadeharper's room.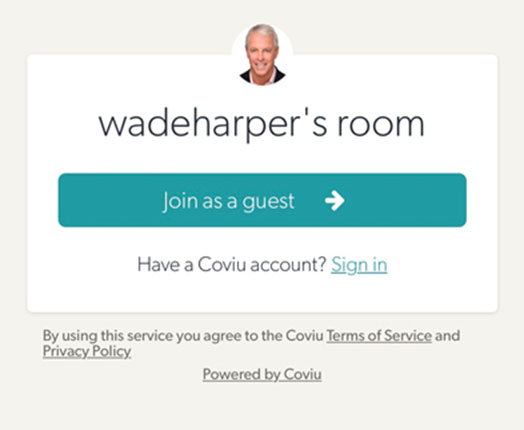 Join this room as a guest. You are directed to take a photo and provide some personal information. This is just to inform the practitioner about who is in the waiting room. None of this information is stored by Coviu or reused anywhere else. If you would prefer not to take a picture of yourself, just lean out of the camera angle and snap. Enter your name and click continue.
Here is a short video to help you set up. If you have any problems, please call us on 96504834.
Please make sure you have sufficient bandwidth at your location. Maximise your WiFi or telecom provider signal and ask other people in the house to disconnect. It should be a minimum of about 300Kbps (or 0.3 Mbps). You can test your bandwidth at: www.speedtest.net.
Also make sure your microphone is on, your camera is working, and that you join from either a Google Chrome, Firefox or Safari12+ Web browser. You can test your hardware and software setup at: tools.coviu.com/precall.
In the event of any difficulty with the connection, please have your mobile phone nearby so we can contact you.
Your video consultation experience will be best if we:
ensure that we have a private, quiet, dedicated place for our meeting.
make sure that we have all that we need at our fingertips, for example; notes, books, pad, pen and a drink.
remove distractions; ensure that the TV, radio, or other computer applications are turned off.
have had a few minutes to prepare ourselves before the meeting, so that we are relaxed and focused, not rushed with scattered thoughts.
consider this a normal appointment, the same as if visiting a G.P, Dentist or other healthcare professional in their office. We wouldn't wear our pyjamas to an appointment (though we might like to), so please keep the space professional.
Finally, please note that Coviu is a safe and secure environment. None of the data that is exchanged in a Coviu call is saved anywhere. All of the call, including audio, video and data, is encrypted between you and the practitioner so nobody can listen into the call.